Hello and Good-Bye to April!
April 2022
What a month for me. I've been hustling. Honestly, I've never felt so alive—I haven't been this passionate about what I'm doing in a long time.
Yeah. That's right. I've been busy! 
Look Up and Dream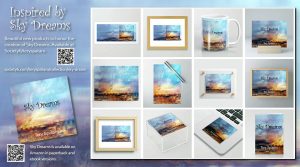 April was a month filled with Sky Dreams creations! Hopefully, you haven't missed out on Sky Dreams. The sky is an extraordinary canvas. Sky Dreams is a poem inspired by a child's game I used to play as a kid – do you remember playing this game when you were a kid? I wrote this poem & created the original sketches in the 1980s for a children's book creation class under the guidance of Leonard Everett Fisher. Joyce, my mother, recently suggested I publish the poem as a picture book. I did that!
What's so extraordinary about creating this book and a big unique undertaking is this is my 1st AI (artificial intelligence) illustrated story. The art is a collaboration with Playform. When using Playform, I spent days training the AI to understand the cloud photographs, patterns, colors, design, and textures I desire. I was surprised at how similar the Playform AI painting style is to my own. Sky Dreams comes in paperback and ebook and is soon to publish hardcover. 
The digital art creative process is also very cool because glitch art inspired the Sky Dreams animated rendition. I recite the poem. The Sky Dreams NFT contract completes the formats for my poetic story – paperback, ebook, and now the MP4 with NFT, which is available for 3 tezos on OBJKT.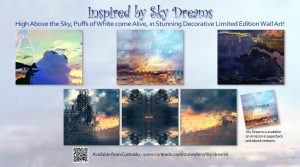 Sky Dreams inspired fine arts with limited editions printed on canvas through Contrado. Imagine these beautiful pieces hanging on your walls.
And wait, there are more products through Society6, including a Sky Dreams puzzle. Check out the collection.
Tezos NFT Artists and More
In addition to experimenting with new ideas and concepts, I've also been getting more involved in the Tezos community. Over the past months, I helped with artists' events for the Tezos Community. The most recent fun event was #Fool4Tez see the art in the OnCyber Gallery.
Most importantly, I've been enjoying the leadership of Lily White / @rblbab. When I was a digital agency leader, events like Lily White created took many months of preparation to launch. But Lily has a fantastic superpower, and she can launch an artist event every 6-8 weeks! A natural leader, Lily, brings Tezos international artists and collectors together to help with these events. She also coaches Tezos artists to help them become more extraordinary! The next artists' event is #Fear4Tez, the deadline to mint is May 12, and the gallery opens Friday, May 13! You can check out Tezos Community Events! 
Grateful for the guidance of these exceptional collectors and cohosts: StartSomething, Sandytoes2211ᴺᶠᵀ, and MykNash. There's always something to learn from their experiences in digital art and NFTs.
Future in Art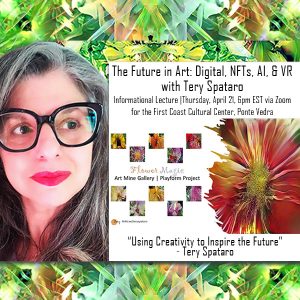 On April 21, 2022, I gave my Future in Art talk to the First Coast Cultural Center and CAVARTS. Again, I had an excellent turnout! It was an absolute delight to share my thoughts and experiences about Web3, Metaverse, NFTs, VR, and AI.
I'm very grateful to Jill Titcomb of First Coast Cultural Center and CAVARTS for organizing this event and inviting me to speak. I'm especially touched by the fact that we had so many Veterans in the audience—your service and sacrifice humble me, and I hope I could give something back through this talk. 
I plan to record my presentation so that everyone can learn about the Future in Art.
Science Fiction
Tom Lombardo's Module 15 gave me a new perspective on the late 1970s and early 1980s – "How Science Fiction Conquered the World – The 1980s." In addition, Tom's webinars always spark deep conversations about science fiction. Join us on May 21 for the conclusion of Module 15, which will focus on Women in Science Fiction! 
Too Much Busy Has Consequences
Last week was a busy one indeed. Sunday morning I spent with my family, by early evening I was sick, with a food allergy. If I look at it from a spiritual perspective, I see that too much busyness has consequences – I'm having a wonderful time creating and working, but I forgot the essentialness of taking a TIME OUT. I spent a week missing out because I was ill. I should plan more time for getting away. Even though I'm in control of my life, I have responsibilities, and getting away is complicated. I take care of my mother.
Taking a Time Out
I had an extraordinary coaching session with Jen Nash (not related to MykNash). I've always been skeptical of coaching, but Thursday's session with Jen helped me reveal a part of life that is difficult to attain: the TIME OUT. I could not believe how much Jen's coaching session changed my perception of taking a time out. I am grateful that Jen showed me that it's easy to get the things you want—and deserve.
One of the things I took away from the session was how important it is to make sure you take time out of your busy schedule to take care of yourself. After all, if you don't care for yourself, how can you care for others? I've been struggling with this concept for a long time. It always seemed so simple, but letting myself have time to relax and focus on my own needs was difficult for me. But after the session, it suddenly felt so easy.
Now, I'm putting a time out for myself on the calendar every few days, making sure that my needs are getting met, and using my new skills to make sure I'm taking care of myself as best as possible.
And I'm even getting back into things that I love! Next month, I will visit the Orlando Museum of Art and see an exhibit on Jean-Michel Basquiat that has been getting rave reviews. It's a goal that was impossible before this week, but now it feels achievable.
What the Heck is Minx?
I am a massive fan of Minx.  I love the characters and especially love Laurence Fuller's performance as David Hockey. Laurence's portrayal is uncanny in how much he embodies David Hockey – I hope to see more of him in this role! Laurence is not just an actor: he's an artist! His work combines painting and poetry with video. 
What's coming in May is the launch of the Butterfly fashion collection, more Sky Dreams surprises, and many digital arts to delight!
Please follow me on these social links: