Our World is Changing
Feb-Mar, 2022
The world has changed, and we're all living through unprecedented times. But unfortunately, the pandemic crisis will be felt for years to come, and my heart breaks over what's happening in Ukraine. It was hard to keep it together, but one thing that made me feel good was sharing my art with all of you.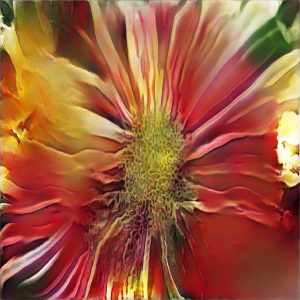 In February, I got to do an interview with Jennifer Chang, CEO of Playform, about my Flower Magic project! You can watch that interview here. Flower Magic is created using Playform's AI tool—you can see how it works. It was great fun talking about the use of Playform's AI. 
On February 23, I was on a panel for the Future in Series created by Ragu Mirsa, the founder of the link. I spoke on the Future in Art, including the blockchain and NFT contracts. I gave the audience a fun, collaborative GAN experience in creating art using words.
In addition, I participated in the Blind Date Collab. I had the pleasure of collaborating with Giraxel, known as @pixellnft, a pixel artist from Bali! We were randomly paired for the Blind Date collab created by @TerosEso and Lily White @rblbab. The gallery went live on February 11. Unfortunately, there are only 12 editions left. So, get yours now!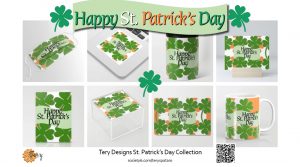 New for Society6
My Society6 store is overflowing with beautiful new products celebrating Valentine's Day and St. Patrick's Day—check them out! The Valentine's Day products on Society6 feature many hearts. But, it doesn't have to be Valentine's Day to give a beautiful, meaningful gift to the one you love. The collection of Two Hearts Beating as One will always be available. In addition, we launched new Society6 products to celebrate St. Patrick's Day. Check out these fabulous, delightful pieces created for St. Patrick's Day.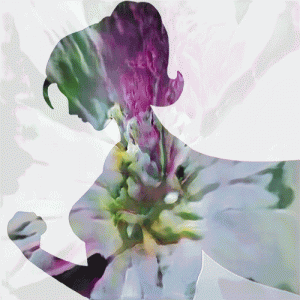 On March 8, we celebrated International Women's Day by creating a unique NFT piece to celebrate all women everywhere while acknowledging the pain they feel across the globe during times of war. This new made with Playform AI with AI music video is Celebrating International Women's Day. 
Glitch4Ukraine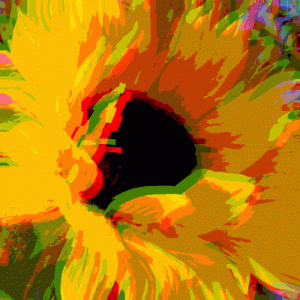 While there were many high points in the past weeks, they were also tinged by a darker moment. The news of the Ukrainian war is soul-shattering! I felt hopeless, and I thought there was nothing that I could contribute to help Ukraine fight off the evil. But the Community of Tezos artists came together under the #Glitch4Ukraine artists showcase. This incredible event was founded by @TerosEso in partnership with @rblbab and @sonrefniocsid. Glitch artists from all over the world created and donated art to #Glitch4Ukraine. I only had a day to create something meaningful and glitchy. I did it with guidance from Lily White. On March 10, the showcase was revealed. Have a look at the cyber gallery, and NFTbiker showcased the page.
My piece is Courage Peace Love Ukraine is a sunflower that transforms into the Ukraine flag with AI music in the background. There are 10 editions for 2 tezos each. During the collectors' review and artist talk, 4 editions were sold. It warms my heart that this piece of art is are going fast. 
In other words, I have a soon-to-be-released AI-illustrated book featuring a poem I wrote from the 1980s, Sky Dreams. I hope you'll like it!
Staying Hopeful
I've been trying to keep my mind occupied with creative projects. It's definitely not easy! But I've had some great opportunities recently to connect with people from all over the world who share my interests in technology, creativity, and art. It is hard to keep it together during this very dark time in our lives. But, I will keep trying to make sure that my friends, family, and collectors have the art that lifts their spirits.
Where to get @Tery Designs?
Are you looking for a special treat for yourself, a gift for a loved one or colleague? My surface designs on fashions, accessories, and products and artwork are for sale through: