Journey to Quantum Consciousness
My creative journey for the Quantum Consciousness collection began with being inspired by Michael Talbot's book The Holographic Universe. This book was a gift from a friend I worked with at Polygram Records in the early 1990s. Reading it was mind-blowing and gave me new insights into observing the world. I was inspired to pursue the evolution of being human, ontological posthumanism, and quantum consciousness and engaged my creative juices. My first picture book, The Other Side of the Box, was a tribute to Schrodinger's quantum philosophy.
Purpose
I have been working with the Quantum Consciousness theme to create an aesthetic and storytelling together to inspire thought-provoking questions on the future of our existence in our human form. With this theme, I offer a unique concept and creation like no other. Quantum Consciousness combines compelling imagery to draw the audience in and storytelling to inspire thought-provoking questions on the future of our existence in our human form.
Quantum Consciousness (QC) is the evolution of the human construct from a limited form to limitless and ethereal. QC reflects the inevitable merging of humans with artificial intelligence, also known as the ontological posthumanism effect, to form an entity of pure consciousness energy in sync with the universe.
The quantum realm is one where there are no rules, only possibilities. Envisioning quantum consciousness allows us to see beyond what our limited brain can comprehend— It enables us to connect on a quantum level and experience the universe more deeply.
Collection
Beautifully created, the Quantum Consciousness Collection celebrates two decorative cosmic themes that complement each other.
— Evolving Quantum Consciousness – Pure conscience energy in sync with the universe.
— Being Quantum Consciousness – Ontological posthumanism effect – intense feelings of becoming more connected to everything.
I began the collection with these two genesis pieces: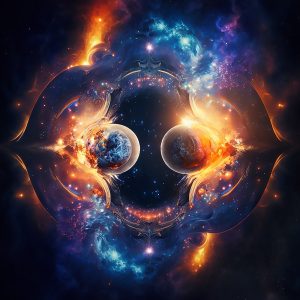 — Evolving Quantum Consciousness 1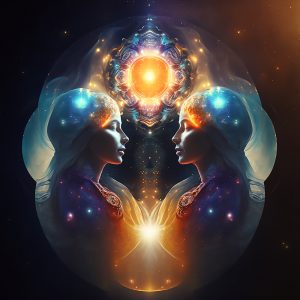 — Being Quantum Consciousness 1 
Creative Direction and Technical Details
Curious about the technical details, creating the Quantum Consciousness collection took several months. The original creative direction was discovered while working on a 11tez11 challenge created by MykNash. The art I was creating inspired me to pursue the energetic cosmic art form. Each AI-infused artwork is 300 dpi and 4267 x 4257 pixels. This art is made with uniquely crafted text prompts using MidJourney and then enhanced in Photoshop.
Truly cosmic, I love these beautiful decorative AI-infused art pieces. Evolving Quantum Consciousness and Being Quantum Consciousness are created to be paired. The collection will grow to have 15 variations for each theme. The collection will have 30 cosmic AI artworks.
KnownOrigin
It's not easy getting into KnownOrigin, but I really wanted this. I worked on my application and artwork for months. I'm thrilled that my application was accepted. Unfortunately, the Quantum Consciousness collection is only available through KnownOrigin.