About Sky Dreams
Sky Dreams is a poem by Tery Spataro, who delights in seeing the sky as an extraordinary canvas. She captures the whimsical playfulness of imagination in this delightful poem and picture book. Whether you're an adult or a kid, you will have fun watching the narrative play out in front of your eyes. Sky Dreams is the first Playform AI-created poetic picture book.
Sky Dreams combines a decade of cloud photographs by Tery Spataro. The sky artwork came to life with Playform AI, with final digital flourishes created by Tery. Later in this picture book, Tery explains the genesis for her poem, Sky Dreams, explains her collaboration with Playform AI, and presents her original paintings.
Using AI for Creativity
In a recent piece, Tery wrote for Imagine Magazine, and she talks about her use of AI in creating and explains Creative Adversarial Network (CAN) AI. Like digital, Artificial Intelligence (AI) is a means for creativity, not a replacement for imagination. What is artificial intelligence? Artificial intelligence is a broad field of computer algorithms inspired by human intelligence's workings.
Where to buy Sky Dreams
Including the beautifully designed picture book/ebook, Sky Dreams comes in many artistic forms that include NFT art, fine arts on canvas, and fun products. This list explains where you can purchase Sky Dreams.
Sky Dreams paperback and ebook are available through Amazon.
Tery does a poetic reading and animation of the Sky Dreams as an NFT –  available through Objkt.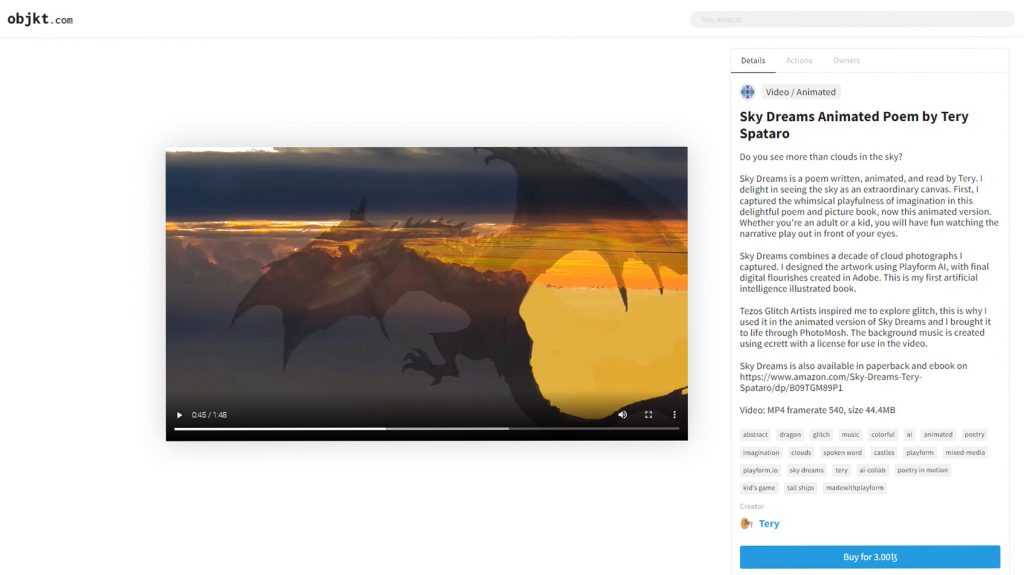 Add glamor and grace to your surroundings with beautiful Sky Dreams fine arts produced by Contrado.
Fun Sky Dreams products, puzzles, and coffee cups made by Society6.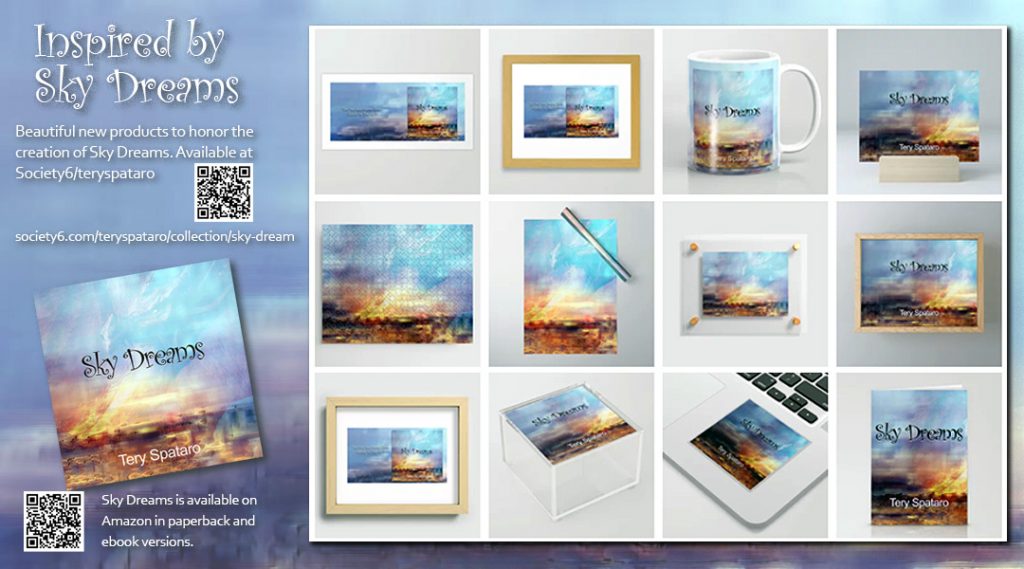 Sky Dreams Unveiled
Tery reveals her new picture book. What a wonderful day it was when Sky Dreams arrived.
About Tery Spataro
Tery Spataro is a creator, science fiction author and enthusiast, futurist, and innovator. Her digital art extends both digital and physical realms—with some creations combining the two—and infuses the human condition with natural and technological elements to create kaleidoscopic experiences. Tery creates using AI-trained art applications and traditional digital tools; her portfolio showcases digital art and fine arts creations, surface design products, fashions, and several books she illustrated and wrote. Click here to learn more about Tery.