May 2022
Spring to Summer
Can you believe that May was here and now it's gone? It went by so fast! Before getting into the What's Up with Tery Designs, I want to give a special thank you to Meriel Radloff, who developed the social media strategy Tery Designs and Creations. Meriel is amazing to work with, she's collaborative, thoughtful, and strategic with developing ideas that help me put my designs out there. I am grateful for Meriel.    
Sky Dreams
I'm super excited about all of my creative projects. Sky Dreams is an AI-illustrated poetic book getting rave reviews from everyone who looks at it. I think it's the first of its kind, and I'm delighted with how it turned out.
These are the excerpts from the book reviews:
"…I love the vibrance of the imagery and the throwback to a time when wondering about the clouds and what images they were making was impactful for so many of us. Tery encourages the creators in all of us with this rich offering."
"I thoroughly enjoyed Sky Dreams. I found myself smiling at each image – the kind of pleasing recognition that comes from seeing another writer voice something that was a big part of my childhood too!"
"I thought the images and how Ms. Spataro used AI to make them was cool."
"The simple, yet engaging style, will leave anyone feeling uplifted. The colors and artwork are superb. I hope to see more work from this amazing author, artist, and educator. As a woman artist, I find this book very inspiring and motivating for women in Web3."
From Sky Dreams to Fluttering Wings
Are you ready for this?! Butterfly, lovely and dazzling spring summer designs are available on le Galeriste! The shapes come in to scarf, poncho, T-shirt, & tunic (for now). The Butterfly collection is available now, created using Playform AI with flourishes I added.
What's Up with AI?
There's a new Artificial Intelligence in town! I'm eager to share the results of what I've been learning. Sandytoes2211ᴺᶠᵀ & lucid-dreamer-nft gave an incredible Twitter space on AI collaborations. I got paired up with the fantastic Eclecticℕature.ᴱᵀᴴ Next month, I'll share what we've been working on together! 
I learned about Google Colab and using creative Notebooks through Ai Chill space. I spent a morning trying to get the notebook to work for me—it was so frustrating! lucid-dreamer-nft offered to walk me through how everything works.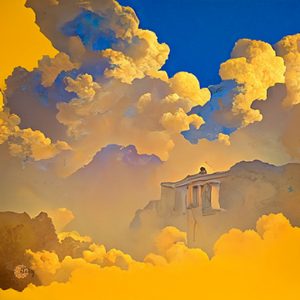 So very delighted to share my first Google Colab AI piece! My prompts drew from Maxfield Parrish. My new understanding of AI opened a new avenue to using AI and creativity. I studied art history, and now I'm going to put that knowledge to work. Learn more about my experiences with AI and my philosophy of creating using AI in this piece I wrote, Imagination in the Age of AI.
Update on Laundrygate
Speaking of AI, Laundrygate, volume two is coming along nicely. The stories will include continuations to the Chairman, 2016, Laundrygate, and HEA.VEN. The twists and turns will be mind-blowing.
Entrepreneur in Me
Indeed, I will always be an entrepreneur, and here's something new. I'm involved with an incredible team to bring innovation to estate planning in another part of my life. I'm thrilled to let you know that EstateCraft has launched. EstateCraft is the trusted guide in your estate planning process. We are building a product that will help people understand the complexities of estate planning, help them define their legacy, and simplify getting their estate plan done.
About My Time Out
I did so much! I find it's hard for me to admit that I'm a little exhausted. However, I did take a brief timeout to spend the day at the museum. The Cummer Museum is a gem! My mother, Joyce, and I spent the day enjoying the incredible collection and walking the grounds. The grounds host a magnificent oak tree about 175 to 200 years old.
In spite of my brief time off, I plan on taking more time out. I haven't explored much of the northern part of Florida or the southern part of Georgia. So, this summer, I am going on more of these little trips. So, enjoy the end of spring and the start of summer! Be safe and well!