Dance of Resilience and Joy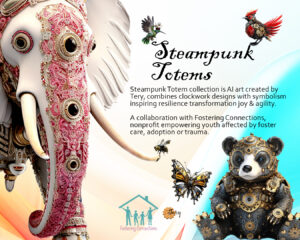 An intricate interplay of time and symbolism, a dance of the clockwork gears of destiny, brought to life through passionate collaboration – I present to you, our labor of love – the Steampunk Totems.
Born out of a partnership with Fostering Connections, a beacon for hope and unity, the Steampunk Totems are tangible manifestations of our collective consciousness, an exploration of the human soul's connection to the universe.
These aren't just ornate artifacts; they're profound storytellers. Each totem intricately interweaves clockwork designs with potent symbolism, speaking volumes of resilience, transformation, unalloyed joy, and agility. Through them, we navigate the contours of our existence, delving deeply into questions that define our experiences and echo our shared human odyssey.
Steeped in the core principles of introspection and personal narrative, every totem serves as a constant, inspiring reminder to stay resilient in the face of adversities, embrace the transformative power of change, and savor life with joy and agility, even amidst turbulent times.
The universe sprawls infinitely, a cosmic ballet of stardust and nebulae. Our time here is but a fleeting wisp of that cosmic dance. The Steampunk Totems embody this rhythm – the rhythm of life itself.
Joyful Inspiration
Get your own Steampunk Totem and welcome a daily reminder of transformation, joy, and resilience into your space. Connect with the profound. Explore the wonder. Share in our journey of consciousness and cosmos.
Beautiful Physical Art available on Society6
About the Project
In collaboration with Fostering Connections and founder, Aubrie Simpson-Gotham, I've helped bring to life a unique project – the Steampunk Totems. This innovative endeavor aims to bolster fundraising efforts and make a positive difference. Fostering Connections FL is a nonprofit empowering youth affected by foster care, adoption, or trauma. To learn more about Fostering Connections please go to Fostering Connections Fl.