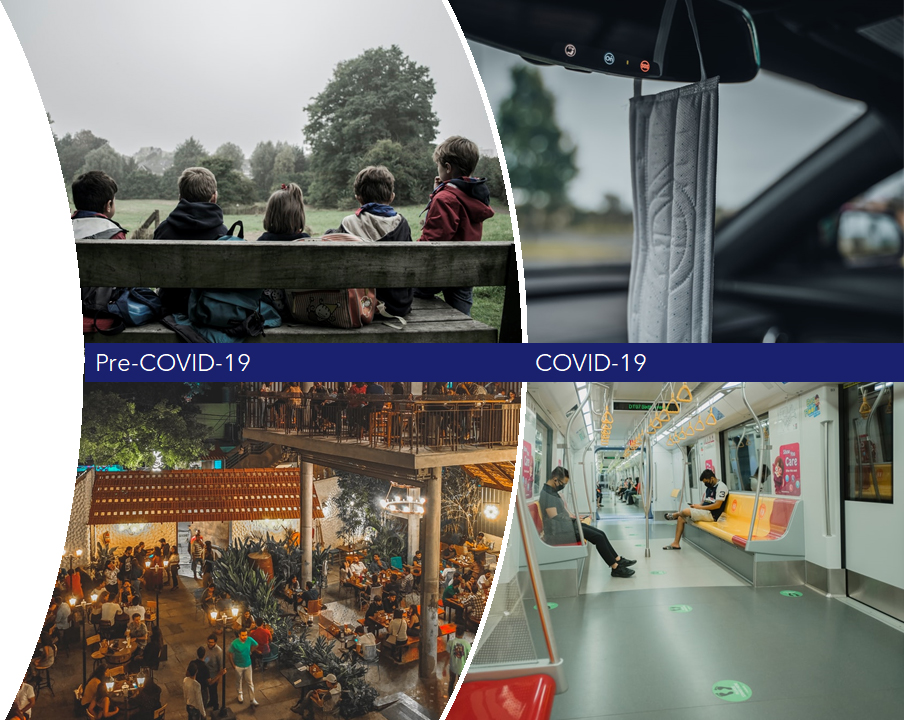 Living in the Time of COVID is a research study conducted in collaboration with Sharon Lewis and Tery Spataro. Respondents for our survey came from our social networks. The findings from this research are directional.
The pandemic created an unprecedented situation. Many of us have never experienced this kind of traumatic condition and health crisis. Sharon and Tery documented the attitudes and behaviors of our community. Our analysis defines our community's emotional perspective, the factors contributing to their feelings, and understanding of their feelings.
We begin gathering completed surveys on June 3, 2020, and closed the survey on June 21, 2020.
Key data points to keep in mind:
The survey commenced on June 3rd, 2020, Day 134 of the first US documented case of COVID-19.

CDC: 1,827,420 (24,955 new) cases and 106,202 (1,045) deaths
Johns Hopkins*: 1,851,520 (1,831,821) cases and 107,175 (106,180) deaths
State data*: 1,843,315 (1,823,647) identified cases and 101,192 (100,200) deaths

The survey closed on June 21st, 2020, Day 152 of the first US documented case of COVID-19.
CDC: 2,248,029 (32,411) cases and 119,615 (560) deaths

Johns Hopkins*: 2,280,912 (2,255,119) cases and 119,975 (119,719) deaths
State data*: 2,270,766 (2,241,990) identified cases and 113,751 (113,452) deaths
No data from KS (M-W-F), MS (since 17 June), RI (M-F)
Total tests (US, Johns Hopkins): 27,084,900 (26,566,553)
*Source: 2020, Kathy E. Gill, Journalist, and Educator.
Objectives
Define emotional outlook.
Identify contributing factors.
Understand the reasons for these feelings.
Methodology
A random collection of responses across our networks.
A structured qualitative survey used to gather responses for three questions.
The analysis is qualitative.
136 completes were gathered between June 3 and 21, 2020.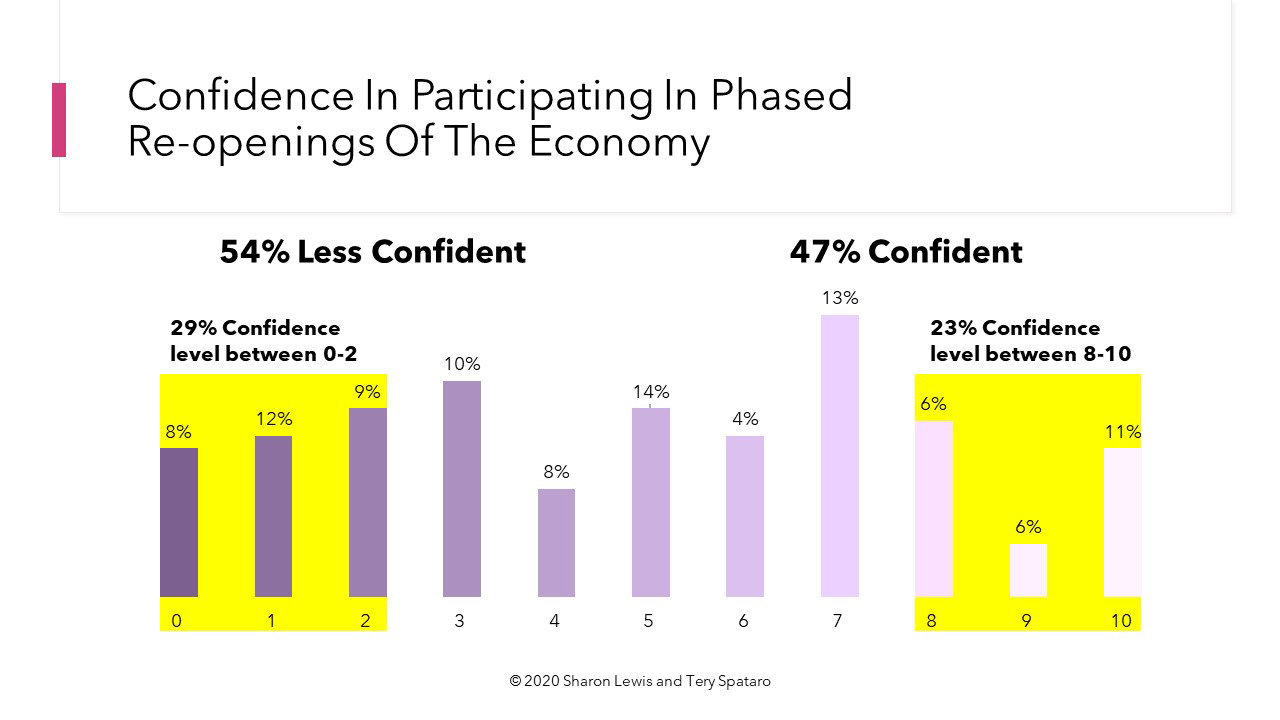 Reasons For Their Feelings
Not surprising that PEOPLE is the keyword in the word cloud created from the open-ended responses.
We are #alonetogether
Attitudes
Trends in the written responses reveal 4 key attitudes:
Analytical, Joy, Sadness, and Tentative
Analytical: A person reasoning about things
I believe things are reopening due to economic issues rather than safer conditions and declining numbers
Too much conflicting information about the transmission
Joy: There is a sense of well-being, inner peace, love, safety, and contentment.
I am being very productive at home with my job, have set a good routine for myself, and continue to connect with friends and family virtually and by phone.
Life needs to move on, and coronavirus will be with us.
Sadness: Indicates a feeling of loss and disadvantage.
The economy can't be allowed to crash/flounder
Confused and cautious
Tentative: A person's degree of inhibition
I am afraid they may find another way that the virus spreads that they didn't yet know about
Would rather be cautious and not risk possible exposure
Too much conflicting information about the transmission
Behavioral Categories
Behavioral categories emerged from their reasons for their feelings to the phased reopening of the economy.
Coping
Isolation
Fear
Judgment
Cautious
Risk
Uncertainty
Unsafe
Lack of trust
Pessimism
Optimism

Untrusting
Self-preservation
Understanding
Content
Confused
Precautious
Bored
Frustrated
Normalcy
Better safe than sorry
Worry
Themes
We launched our survey on June 3, 2020, and closed on June 21, 2020. As COVID-19 numbers continued to rise in parts of the country, while restrictions were lifted in other parts of the country, we noticed subtle shifts in the sentiment expressed in the open-ended responses.
These qualitative responses reflected the tensions highlighted in the following sections.
Self Trust vs Trusting Others
Health vs Economy
Caution vs Risk
Self Trust Vs Trusting Others
An important concern, as we are #alonetogether.
| | |
| --- | --- |
| I understand we have to re-open and get back to business. But, with a potential second wave happening after these protests, premature openings despite what the data tells us, it's scary. I trust myself, I might even trust the business owners, but you can't trust other people to be taking the same protective measures as you have – especially in specific areas of the South. Though, to be fair, I would probably be just as skeptical and cautious of reopening in New York City or other regions as well. June 3, 2020. | Without a viable treatment plan or vaccine, I fear that many of us are in high-risk populations. Seeing how many people disregard the health of others, I do not feel safe in the company of those people.  I trust the science more than I trust a politician whose sole agenda is to get re-elected. I miss interactions but will not risk my family's health for someone else. June 21, 2020. |
Health Vs Economy
One's personal view is influenced by their own employment status and the health risks of their immediate loved ones.
| | |
| --- | --- |
| Lost 4 members of my family in the month of May due to COVID. My dad and sister have serious health issues, I am the caregiver I must be especially careful. June 3, 2020. | Public policies are heavily influenced by the political pressure to re-start the economy. But my chief consideration is protecting an 82-year-old family member. Plus, I can work remotely. So, I chose the strictest quarantine without offsetting it by other considerations. June 18, 2020. |
Caution Vs Risk
Perhaps the most subjective of the open-ended responses received.
| | |
| --- | --- |
| I want things to be "normal" again, but I also don't want to be sick or cause anyone else to be sick.  I am being cautiously optimistic. June 15, 2020. | I'm sick of being inside and willing to risk it. June 5, 2020. |
Summary
Re-opening the economy causes considerable stress, uncertainty, and distrust.
Confidence in the phased re-opening is divided.
Most respondents want to understand the data to be better educated about cases and policy changes.
The strongest keyword used is People when expressing a sentiment about re-opening.
Trust is the greatest emotion expressed about one's comfort with re-opening.