Kicking off the Summer
So far, it's been an exciting year! Tery Designs and Creations started this new journey by launching the brand with a single digital product—and since adding many forms. It warms my heart to see my family, friends, and enthusiastic customers enjoying my creations. I've expanded from digital to phygital (a crazy term for combining digital art with physical products) to include books, lifestyle products, fashion and accessories, fine arts, and NFTs.
A big thrill is that I've gained so much knowledge about using artificial intelligence to create art. I put this newly acquired knowledge to work in my creations. And by sharing my learnings with my community. So much of June, I focused on sharing and educating.
First up is celebrating my first year in NFTs! Seeing how far I've grown in just one year and what I have accomplished in this new and exciting world was amazing!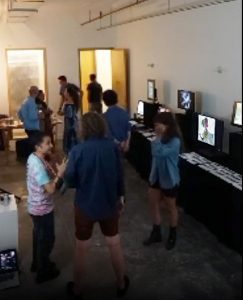 I was astounded to learn that, Celebrating International Women's Day, a piece I created was in the Teia After Party NFT.NYC exhibit on June 21, 2022, Hunters Point Studios, LIC, in coordination with the Lydian Stater art gallery. Thank you, Andressa Furletti, for including my crucial piece dedicated to the spirit of women. Celebrating International Women's Day is my first NFT art piece show IRL!
Startup News
Before the pandemic, I mentored startup teams through Elev8, Startup Weekend. I met so many incredible aspiring entrepreneurs.
I dedicated my time after Startup Weekend to helping these new startups get their businesses off the ground. But unfortunately, the pandemic became critical in Jacksonville, making it difficult for early-stage startups to weather this uncertain situation.
One courageous startup led by Derick McElveen and partner Theron Douglas continued even as the pandemic got worse. Everyday Fresh Club is now live and thriving – Jacksonville should be very proud of the brand Derick and Theron created. Let's welcome Pharmacists Dr. Derick McElveen Jr. and Dr. Theron Douglas. They made the Everyday Fresh Club, a line of all-natural products specifically designed to address deficiencies in hair, skin, and bald care products for men of color worldwide.
Creating with AI
I'm so excited to announce that the first class on Creating with AI was a blast! Lucid Dreamer and I kicked off the program with a well-attended eager-to-learn group. The first class familiarized learners with the standard terms, practices, and services. Later in the class, Lucid Dreamer and I showed examples using Google Colabs and Python Notebooks.
This Sunday, July 3, will be about Disco Diffusion. Join us on Discord. And we'll teach you how to dance with an AI.
Many discussions regarding if AI can become sentient. Do you think AIs can become sentient? In this piece I provide my opinion on AI and the future.
New AI Creations
The Mirror Worlds Series are new creations made with Disco Diffusion.
The Mirror Worlds is available on Objkt in the AI collection for 1 Tezos each.
Tezos Community
I've been busy over here in TezTown, and I wanted to give you an update on what's going on in the community.
TezTown has grown into a fantastic community for anyone who wants to learn about Tezos. I love that TezTown brings together artists, collectors, and builders—all coming together to learn more about this fantastic technology!
The one voice that makes this community come alive is Lily White, the mother of Tez. She founded TezTown and brought together a team of passionate Tez creators, developers, and collectors. I'm proud to be on that founding team, bringing our vision of TezTown to life. It's been hard work—but so gratifying! I'm honored to be one of its founding members.
TezTown provides educational content and curriculum for artists, collectors, and anyone interested in learning about the Tezos blockchain.
What Happened and What's Coming
Sky Dreams book launch was an incredible success! I enjoyed connecting with friends and telling my story about the creation of Sky Dreams. I am grateful to all that attended.
This month I caught up with friends and colleagues I haven't seen in a long time. Zoom makes it easy to keep connections. Our conversations were about Web3, metaverse, and creating with AI. I'm thrilled to share my experience and knowledge on all three topics, especially about  AI services for creativity.
Let's celebrate the 1st anniversary of the Link! Congratulations to Raghu and Gurpreet Misra for creating an incredible place for the Nocatee community to enjoy. I'll be there on July 16, 6-9 pm! And kids are invited to collaborate with me in creating AI art! We're going to have lots of fun!
I'm looking ahead to July! I can't wait to tell you what I've been up to next!