The Digital Twin: Making Tripendicular a Reality
Jan 2022
While I had previous sales of digital fine art, I was dipping my toe into the world of crypto-collectibles before I got involved. So this was a chance to break out and expand my art offerings, introducing my first ever physical crypto collectible. Did you know the tezos blockchain operates as a nonprofit organization? Using tezos means that buying an nft does not need to be priced high like buying an equivalent asset on ethereum. And with the rock bottom prices currently being charged for nft (at least for me), it seemed like a good time to dive in and create beautiful, thought-provoking art.
I love the whole blockchain space and creating art that becomes a digital twin and printing in physical form vs. a simple photo. It gives it a more artistic feel versus when you look at just the image on your phone. And I would love to reach as many people with my art worldwide and make them part of my metaverse by purchasing either the physical piece or an NFT. Learn more about the business of art in my post on the Future in Art.
What is a Digital Twin?
The creation of the Digital Twin starts in my digital art studio. I use two tools to create my art. The first is Playform, which generates gorgeous background images using my photographs. Some of the Playform generated images are beautiful and come in a melting form. Second, Adobe Photoshop, where I add my personal touches, should as geometric symbols and kaleidoscopic filters.
How I Mint My Digital Art
The output is a digital fine arts piece is printed on canvas, metal, fine art paper, fabric, ceramic, wood, and plastic—the digital fine art then becomes a web-appropriate digital copy. Finally, the digital art piece becomes an NFT. I use tezos blockchain to mint.
Objkt, a blockchain tool, keeps the records for crypto-collectors about my work. As a Collector, you can see the full story on my digital art and twins, born on the tezos blockchain, and Objkt lists all the transactions in history. That's transparency!
Transformation of Tripendicular 
In my last blog post, you learned how I made my newest theme: Tripendicular. What does Tripendicular mean? Tripendicular is a disorienting view one has while falling or moving, as in an arc or a direction other than just horizontal or vertical. The orange moth brings insight to transformation, hidden knowledge, inner wisdom, psychic abilities, and shadow work. This lovely piece provokes discussions about what one sees in the image.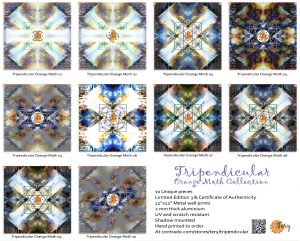 Here, Tripendicular Orange Moth is a physical art form printed on metal. Tripendicular Orange Moth is a series of 10 unique pieces with a Certificate of Authenticity with three additions.
10 Unique pieces
Limited Edition 3 & Certificate of Authenticity
12″ x12″ Metal wall prints
2 mm thick aluminum UV and scratch-resistant
Shadow mounted
Hand printed to order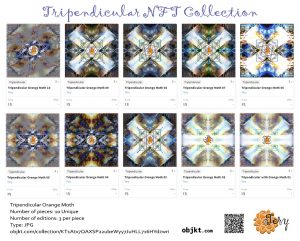 What I do next is create Tripendicular Orange Moth as a digital twin.
Number of pieces: 10 Unique
Number of editions: 3 per piece
Type: JPG
Not only do I believe in more options for the collector, but most importantly, I am using this as an example to show my passion for metaverse and web3.
Making a "real" object out of digital art is not new. Today, digital artworks are remixed and printed on canvas, paper, wood, or metal prints. This physical reality can help you better understand the idea behind a complicated painting. In addition, the existence of ownership gives it additional value and proves to us that what we have purchased is real.
I hope that gives you a deeper understanding of what I do, allowing you to see the technology behind it and the physical objects.
A world of thanks!
Our lives are busy, and it is hard to keep up with the nascent digital world. So, I had a great session with Lily White, crypto artist, creator, a leader in tezos, and Hic et Nunc. Lily helped me understand the various NFT pricing strategies, edition schemas, and burning of art. I am grateful to Lily for her support and patience in this fantastic and evolving world of Web3. I highly recommend setting up a session with Lily White! You can reach Lily on Twitter @rblbab.
Where to get Tery Designs and Creations?
I find myself at the forefront of imagining the evolution of technology, the human condition, and nature. I am a creator, author, futurist, philosopher, and entrepreneur pursuing creativity.
The theme of my art is the confluence of nature, humans, and technology. Besides creating thought-provoking pieces, I infuse bits of humor to make a memorable point. My contrivances are intermingling Adobe Creative tools, Playform AI or Tiltbrush VR. My creative outputs are surface designs for physical objects, abstract animated digital works, picture books, science fiction stories, and digital operas.