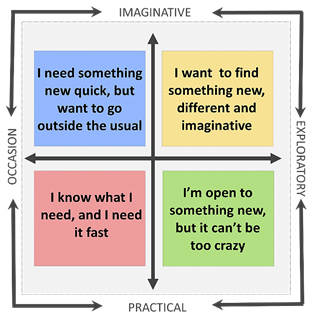 Retailers wonder how to incorporate the ever-changing omnichannel and added extra credit card processing security; they will also need to think about the Internet of Things [IOT] and how it fits into the retail experience and marketing budget. Some retailers are using digital in-store to enhance the shopping experience for their customers. But implementing these devices could be costly and time-consuming, especially if they fail to produce results for the retailer.
But we must recognize that customers have overwhelmingly connected lives. In their daily journey, they are shuttling between their homes and work in a constantly connected state. This connected state influences their shopping behavior. Customers will search online, comparing prices, promotions, ratings, and reviews.  Internally, the customer may debate things like the difference between shipping costs versus the cost of gas and driving time, even trying to figure out how to economize their activities. At any point in the customer's journey, this shopping behavior could occur, even when they are in-store.
Customers don't care if their digital shopping behavior is disruptive – they want what they need when they need it.
Also, they want a stress-free environment, with an infinite assortment of readily available deals, coupons, and discounts, the ability to shop with mobile, build a gift registry with ease, browse online or in-store for the best opportunities, and an atmosphere that inspires and stirs their imagination. Customer retention is the key, and now more than ever, it is essential to develop a longer-term relationship with customers to bring them back into the store.
Three Takeaways for in-store digital engagement
Retailers, who want to leverage these in-store digital engagements and experiences, will require a shift in marketing strategy.  Here are three things to add to your strategic approach to help identify and define these new and exciting experiences:
Research: There is plenty of data from your store that will help to identify gaps in your relationship with your customers. This assessment will help you with the information that you can use to determine the type of experience to create for your customers. It will also help you identify which online tactics will be useful to the in-store experience and to assess:
Customer feedback.
In-store observations of customer's behavior with and without children.
Assessment of digital data and customer behavior with digital.
Your store's activities and customer highs and lows.
Define: Insights from your research will help you examine the problems that need to be solved and determine the types of content and experiences that will help your customer out.
Time-strapped customers need accessibility.
Customers with children need more consideration time.
Comparison shoppers need an enriched experience.
Attention-deprived customers need experiences that capture their attention.
Measuring: The solution you put into place will need to be measured. Each experience will measure differently and need to be overlapped with dwell time, sales, time spent in-store, and brand awareness.  The good news is that there are dashboards that help track dwell time and customer engagement.
Revise the strategic planning process to incorporate research that cross-references in-store and digital, define your personas based on their behavior with digital, solve problems to make your customers happy, measure and adjust to make sure your investment is helping you engage the customer, make them happy, ensuring a greater lifetime value.
Book excerpt: Spataro, Tery. 2015, Creating Effective In-Store Digital Retail Experiences. SmartInsights.