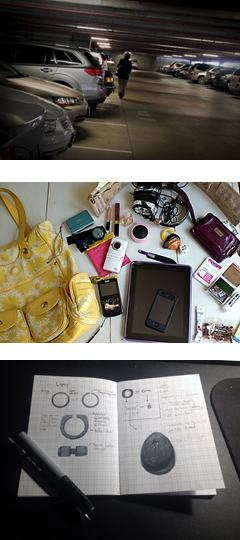 Personal safety is a constant concern, especially with women. Designing a personal safety device is complicated. Some of the considerations to the design problem are age, behavior and emotion, physical structure, movement and dexterity, and safety circumstances. The challenges of designing a personal safety device take into consideration the user needs, the fit protection for situations.
The problems around personal safety were explored, identified, and defined. Most importantly, empathy ensured the integrity of the design. It would be necessary to collect preferences, expectations, and aversions from women on their safety needs and examine many scenarios. The voice of the customer research was used to get to the heart of personal safety concerns to design solutions that will help in profoundly frightening and potentially life-threatening situations. A community of 900 women ages 18 – 75 from across the United States was screened, invited to an online community, and encouraged to help in designing a personal self-safety device. Over six months, 138,000 data points gathered, and six exercises were given to the community to explore personal safety.
The first three months explored the psychology of each member of the community to learn about their fears and understand the victim's perspective, challenging scenarios, and environments. No surprise, the emotions most experienced by the community was panic, anxiety, and fear:
I don't want to hurt or kill my attacker
I may not be fast enough to use pepper spray or mace
I'm afraid of carrying a gun
Over two months, scenarios and exercises were given to the community:
Participants were encouraged to take photos of their home, areas they frequent such as parking garages, places they walk, and their work environment

This exercise examines environment scenarios the user may encounter.

Participants were asked to photograph their everyday handbag and the contents

In this exercise, the learning was about the size, weight and space, items carried, storage, and complexities of finding objects in the
The qualitative and quantitative analysis identified solutions that were distilled into categories based on age group and needs. The discoveries included: confidence in using the device, manageable and straightforward to use – requires little no training, the device must be within reach, blends with a garment or concealed by garments or handbag, and the device must be light-weight.
In the final month, eight prototypes were presented to the community to evaluate. The evaluation process included sending prototypes to 5 members of each group to try out and asking participants what retail locations they would purchase the device and how much they would spend on the device.