Best Holiday Wrapping Ever
When I was a child, there was a competition between my siblings and me for the "Best Holiday Wrapping Ever." Creativity would take over. My parents taught us the importance of being resourceful. A scavenger hunt was part of the creative process. My brothers and sister would fill our childhood home with excitement as we looked for unique things to add to the wrapping paper. We squealed and laughed so loudly our neighbors heard all of our shenanigans as we hunted inside and outside the house and looked for unusual items to add to outrageously but lovingly wrapped gifts. 
We decorated festive wrapping paper with ribbon, bows, acorns, twigs, rocks, bottle caps, mini toy cars, plastic soldiers, stickers, doll shoes, buttons, leaves, pine cones, and more unusual, the better. At times I would create my wrapping paper. Then, I would draw fantastic holiday scenes with snow angels, raindeers, snowpeople, and complete with a Santa Claus. Holiday gift wrapping should be fun!
Gift Wrapping Trends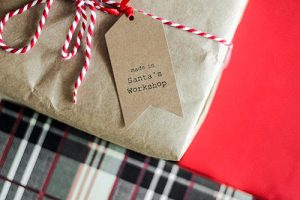 There are many creative ways to wrap presents. A trend in gift wrapping is Furoshiki gift wrapping. Furoshiki wrapping is a Japanese-style gift wrapping. It's easy to learn, no other tools and materials are required, and the best part is it's eco-friendly! A scarf creates gorgeous wrapping, and the scarf can be a gift too. Click here to view a beautiful demonstration on Furoshiki wrapping.
No more wrapping paper, no worries. Try this wrapping trick. Take a paper bag cut to fit the gift. If the paper bag has images on it, turn it inside out. Around your home, hunt for items such as buttons, ribbon, twine, pine cones, pine twigs, dried flowers, and ribbon. Then tape, your found objects to your paper bag wrapped gift and add the ribbon to bring it all together. Have fun and be eco-friendly.
No time to get creative, I designed a selection of festive wrapping papers for Society6. Oversized, premium-weight wrapping paper will please even the most discerning wrappers. Your favorite designs will pop and turn your gift into a complete package. Wrapping paper sold in packs of five sheets. Each sheet measures 20″ x 29″ and 100lb smooth matte paper.
Where to get @Tery Designs?
Are you looking for a special treat for yourself, a gift for a loved one or colleague? My surface designs on fashions, accessories, and products and artwork are for sale through:
Features le Galeriste fashions using Tery Designs

Dresses, pants, accessories, kimonos, tops, men's long and short-sleeved t-shirts

Contrado

Features limited-edition works of art by Tery Spataro.

Clothing, dresses, skirts, scarves, ties and pocket squares, kimonos

22 Tery Designs on 62 products

Society6

Have 56 painting designs for Wall Art, Furniture, Home Decor, Bed & Bath, Tabletop, Office, Tech, Apparel & Bags, Outdoor & Lifestyle

There are 667 products on Society6 with my designs.