Have a Happy Holiday Season! Merry Christmas and Happy Holidays to you and your precious families. I wish you happiness and joy. From the Tery Design's Family to you, your family, and friends.
Ole Christmas Tree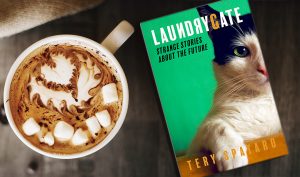 Everyone loves the holidays. Gather your family and friends together to enjoy the holidays in a warm, cozy environment. The perfect time to enjoy the festive holiday and Christmas decorations, especially with a cup of hot chocolate.
My mom, Joyce, bought Sacred Geometry Elaine Skirt from le Galeriste. She tried it one this morning, and looks fabulous! Mom will be the best dressed of all of this Holiday.
Creative Explosion
This year I had an explosion of creativity. From watercolors and photo manipulations featuring my wildlife photos to arty abstract creations and a thousand objects, my designs and art have shown up in online stores and sold in person and shown online. Playform.io helps me create generative art. My other artistic style is watercolor with butterflies, flowers, and birds motifs. There are over a thousand products that use my art. I want to say I'm exhausted, but I do enjoy creating. Hence, the emails, calls, comments, and support from customers and patrons let me know they are in awe of the final output. Their joyful surprise keeps me going.
I'm finishing strong with only a few days to Christmas; Laundrygate, Strange Stories About the Future is now an audiobook!
Three online print-on-demand stores exhibit works by Tery Designs and creations with a thousand objects with my creativity.
NFT art market is crushing the art industry. So I jumped in. I wanted to take a moment to showcase a few artistic holiday gift ideas that would be great for any gift-giving. For instance, I make NFTs with the Tezos blockchain, clean NFTs, and make them available through Objkt.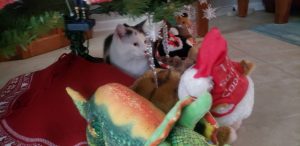 Countdown
As the countdown to Christmas continues, of course, we want to enjoy being home with family and friends. So we have a few unique visitors coming home this week. We haven't seen Tom in almost three years. His visit will be the best Christmas present ever. Joanne, my sister's in-laws, Al and Sharon, are visiting from Las Vegas. 
Our studio cat, Luke, is getting into the Merry Making Spirit. He might make the cutest Santa Claus ever! 
Downtime
I don't need to tell you, but I will anyway: The holidays are stressful. It's just a thing. Because of that, it's essential to take time for yourself. I take time by watching heartfelt and sappy Holiday movies and stories. 😉
On Facebook, I just saw photos of Meriel and her family making cookies! I can hear their laughter as they work together. Meriel is the social media expert behind Tery Designs. Collaborating with Meriel is a delight!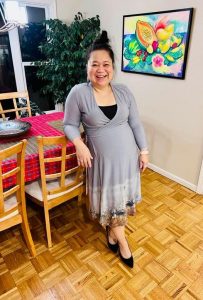 I love surprising friends and family with extraordinary creations. Meriel rocks the Transformational Olivia wrap dress from le Galeriste. I am impressed with the line and flow of my art on this dress, and Meriel looks lovely wearing it.
Happy Holidays
It's easy to get swept up in the hustle and bustle of the holiday season. It's also easy to forget why we celebrate—or even what we celebrate. But there's no better time than now to take a step back, take a look at what's important, and try to appreciate all that we have. We hope you have a wonderful time with your family and friends this holiday season—and that your happiness shines.
Warmly, Tery, Meriel, Joyce & Luke